Livestock Tracking
We have helped universities, ranchers, dairy farmers and auction barns track and monitor the health of their livestock in real time.
Tracking the Herd
Our proprietary ABGI AllTraq system uses small RFID tags and ultra wideband technology to track the location and movement of any animal in the herd in real time.
The system has greater accuracy, density and distance with less interference and lower cost than any other system on the market. Alltraq will help identify unauthorized movement of livestock to reduce opportunity for theft.
Monitoring the Herd
The AllTraq software allows you to view, edit and store important information and history on each animal. Non-invasive spectral and infrared sensors can be used to monitor vital signs, temperature, heart rate, oxygen saturation and Ph levels.
This information is crucial for early identification and treatment of sick animals. The system allows livestock managers to monitor and maintain the health of their herd.
Real Time Events
Zone based events can be set up to notify personnel when livestock enter or exit predefined areas. These events can record and alert personnel when an animal crosses your property line.
Zone based tracking can also be used to measure nutrition intake by recording how often an animal enters zones that contain food or water sources.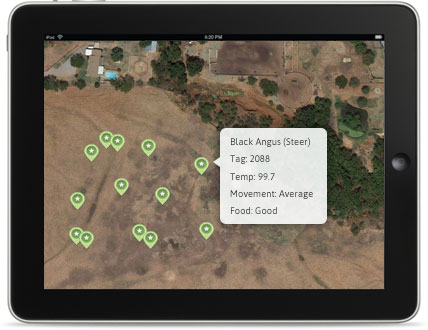 Dairy Farms
We've helped Dairy Farms track and record the length of time each cow spends at specific milking stations. This allows personnel to measure and trace back milk to a specific cow. This way the Dairy Farmers can easily see which cows are producing the most milk.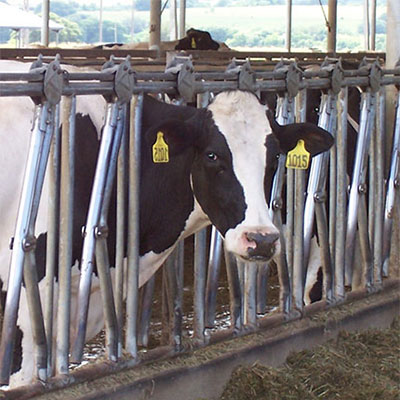 Auction Barns
We set up a system for auction barns that allows bidders to instantly view information on animals for sale. Bidders can view important stats such as weight, height and vaccination history on their phones or mobile devices as each animal comes up to the auction block.
Know Your Herd
System reporting helps farmers and ranchers keep track of vaccinations and medical history to manage disease before it spreads through the herd. Monitoring food consumption, milk production and weight gain helps ranchers and farmers breakdown cost analysis on a per animal basis.
Related Projects
We've helped organizations track the movement and utilization of equipment, supplies, vehicles, weapons and personnel.