Capital Asset Performer
Cap the cost of medical equipment repair and maintenance and eliminate multiple manufacturer contracts. With the CAP Program, most hospitals experience 15-25% a year in savings.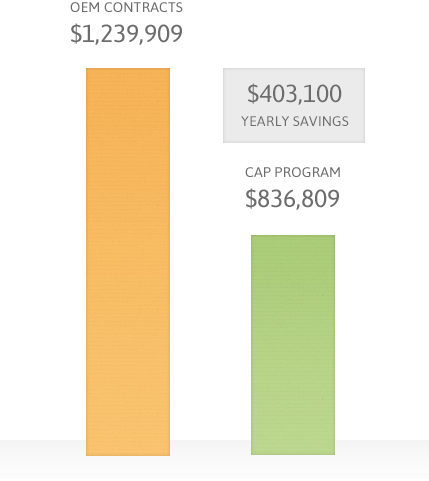 Repair & Maintenance Management
The CAP Program provides cost-saving alternatives to expensive service contracts. It is the only multi-service arrangement which operates entirely independent of equipment manufacturers, allowing ABGI to provide the medical facility with truly objective guidance and coverage.
Cost Containment
A capped cost for your repair and maintenance saves you money and helps you manage your budget with no surprises. We reimburse for your choice of maintenance sources. Use the OEM, an independent 3rd party or turn your biomedical department into a revenue source.
Complete Assurance
We have been helping hospitals manage risk and reduce costs for 30 years. We are financially backed by various underwriters at Lloyds of London & Amerimed Limited, Bermuda. Each ABGI customer is expressly and individually named as a co-participant in our reinsurance coverage.
The CAP Program Provides...
Coverage for all categories of capital equipment: clinical, biomedical, facility systems (heat and air), computer, and telecommunications.
A means of capping the cost for repair and maintenance expenses.
Coverage for repairs required – 24 hours a day, 365 days a year.
Assurance protection annually audited by underwriters at Lloyds of London & Amerimed Limited.
Coverage of all preventive maintenance requirements.
Reports of all repair activities, formatted to meet infection control and fulfill The Joint Commission (TJC) requirements.
Prompt payment of service whether provided by equipment manufacturer, biomedical staff, or independent service company.
CAP Program Coverage
Diagnostic software coverage
Failure due to operator error
Repair parts covered at present value (not prorated)
X-ray glassware, image intensifiers, nuclear medicine crystals, etc. covered at 100% of repair cost (optional, at client's discretion)
Reports accessible online
Add or delete equipment from coverage
Service incidents audited by engineers for billing accuracy and clinical correctness
Cost can be paid annually, semi-annually, quarterly, or monthly
Standard CAP Reports
Service Incident Report - Details of each repair
Account Activity Report - Details of contract performance
Engineering Report - Consultative data and advice
Budgetary Replacement Report - Asset purchase guidance
Our Clients
ABGI has served hundreds of commercial and government facilities across the United States including:
Armed Forces Medical Examiner Services
US Army Institute of Surgical Research
US Army Medical Research Institute of Infectious Diseases
US Army Medical Research Institute of Chemical Defense
Walter Reed Army Institute of Research
FDA Office of Regulatory Affairs
FDA Center for Veterinary Medicine
FDA Center for Food Safety and Applied Nutrition
FDA Center for Drug Evaluation and Research
Kern Medical Center
Baylor University Medical Center
Scripps Research Institute
"Our members have realized hard dollar cost reductions exceeding $1.4 million to date. The ABGI program has proven efficacy, product quality, program flexibility and service."

- Vice President VHA Central Atlantic, Charlotte, NC
"We are able to leverage OEM's, find reliable third-party organizations, obtain greater access to the parts market, and utilize our in-house biomedical services to a greater extent. As an added benefit, we have found our department managers are becoming very maintenance cost conscious."

- Biomedical Services Manager, Rogue Valley Medical Center, Medford, OR
"Over the ten years we've been with your firm, our savings have been in excess of $1,165,000! When we first joined with ABGI, there was a tremendous surge of saving. Over the past few years, it's been less dramatic, but level and consistent. Financially, our bottom line is better because ABGI is with us."

- President and CEO, Valley View Regional Hospital, Ada, OK